Two Paranormal Romance Boxed Sets featuring Nine Hot Alpha Heroes for just $0.99 each!
New York Times best-selling paranormal romance author Felicity Heaton has added a new boxed set to her Eternal Love collection. This time, the set features FIVE sexy shifters to go with her FOUR sinful vampires in the first collection. The great news is that to celebrate the release of the second collection, she's offering both boxed sets for only 99c / 99p each at all retailers right now!
That's right, you can get your hands on Eternal Love: Shapeshifter Romance Boxed Set and Eternal Love: Vampire Romance Boxed Set for only $1.98!
Here's a little more about each set plus links to all the retailers:
Step into the dark, dangerous and seductive world of werewolves and big cat shifters in this amazing limited time only boxed set of shapeshifter romances packed with passion, forbidden desire, emotion and suspense... and love that will last forever.

CRAVED BY AN ALPHA
Having turned his back on his snow leopard pride, Cavanaugh has been counting the days until he's free of a role he never wanted—one that separated him from his fated female and stands between them. But just days before he's free to be with her, Eloise walks back into his life and demands he save the pride from the tyrant he left in charge. As they travel to Bhutan, will Eloise be able to resist the burning need that Cavanaugh reignites in her and remember her place in the pride? And can Cavanaugh find a way to save his kin and claim the future he craves with the woman he loves?

HUNTER'S MOON
The horror of the night he failed to save his werewolf pack from the cruelty of their vampire masters has haunted Nicolae for one hundred years, driving him deep into the Canadian wilderness in search of peace. That peace is threatened when unfamiliar hunters and the scent of blood lead him to a beautiful vampire and a hard decision—face his past and help her or risk losing everyone again.

EMBRACING THE WOLF
The night Amon revealed that he was an alpha werewolf and she too held the gene in her blood, Kat fled his pack, but no matter how far she runs, she cannot shake the 'beast' inside her or the knowledge that one day she will mature into a werewolf—into Amon's mate. Four years on and now a member of the Werewolf Control Forces, Kat hides in plain sight among their ranks, each night fighting the 'beast' inside of her and hunting rogue werewolves with a vengeance. But when she discovers Amon is dangerously close to turning rogue and only she can save him, will she hunt him or will she embrace the wolf to save them both?

IN HEAT
A heat wave isn't the only thing making London too hot for lawyer Kim. She's been spending each night with a man who sets her body and heart on fire. The problem? He's a man who always sprouts black fur and purrs, and he's only a dream. Walking into her office, the last thing she expects is to meet Erik, a man who sends her temperature soaring and who resembles her dream guy exactly. As the flames of passion between them burn white-hot, Erik is willing to risk everything to claim his fated mate, but when his secret is revealed, will Kim turn her back on him or give him the forever after he craves?

CRAVE
Callum has come to the city of romance on business, not pleasure, but when he sets eyes on a gorgeous werewolf in a nightclub, he can't ignore the dark carnal craving she ignites in him. His work for Vampirerotique, the erotic theatre he runs with three other vampires, can wait. The only thing that matters now is satisfying his sinful hunger for a woman who most vampires would consider an enemy.
Get it now from: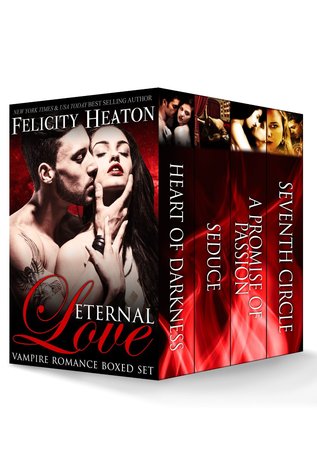 Step into the dark, dangerous and seductive world of vampires in this amazing limited time only boxed set of vampire romances packed with passion, emotion and suspense... and love that will last forever.

HEART OF DARKNESS
A vampire prince intent on avenging his murdered sister, Aleksandr Nemov won't stop until the hunter's line is extinct. Each kill pushes him towards the darkness all vampires hold within their hearts and devolving into a beast. Time is running out as he tracks the last hunter to Prague. There he finds a beautiful woman who could be his one chance for salvation, but is it already too late for him?

SEDUCE
Bloodlust runs in Antoine's veins, a dark master waiting for the day it will reign over him. Now a woman with a pure soul and wicked intentions has him in her sights and is determined to crack the ice around his heart, and she might just save or damn him. When Sera discovers the shocking truth about his past and the darkness that lurks within, will she be strong enough to seize his heart or will she lose him to the ghosts that haunt him?

A PROMISE OF PASSION
Alicia is a vampire hunter, unable to find a man strong enough to love and accept her for who she is. When Kassian, a tall and seductively handsome vampire walks into her life and vows to protect her, she doesn't know what to think or feel. His eyes make promises that his searing touch backs up, but can she get past the fact that he's a vampire and accept him for who he is?

SEVENTH CIRCLE
Lincoln is a powerful pureblood vampire with a problem. He's caught up in a prophecy and has little time left to unravel the mystery of the contract between his lord and the Devil before he dies. When witches foretell that a vampire hunter will save his life, he's prepared to work with his most hated enemy, but he isn't prepared for the forbidden desire he feels when he meets her.
Get it now from:
The price of these two fantastic boxed sets will go up in February, so be sure to grab your copy today to avoid disappointment!
About Felicity Heaton
Felicity Heaton is a New York Times and USA Today international best-selling author writing passionate paranormal romance books. In her books, she creates detailed worlds, twisting plots, mind-blowing action, intense emotion and heart-stopping romances with leading men that vary from dark deadly vampires to sexy shape-shifters and wicked werewolves, to sinful angels and hot demons! If you're a fan of paranormal romance authors Lara Adrian, J R Ward, Sherrilyn Kenyon, Gena Showalter and Christine Feehan then you will enjoy her books too.

If you love your angels a little dark and wicked, the best-selling Her Angel series is for you. If you like strong, powerful, and dark vampires then try the Vampires Realm series or any of her stand-alone vampire romance books. If you're looking for vampire romances that are sinful, passionate and erotic then try the best-selling Vampire Erotic Theatre series. Or if you prefer huge detailed worlds filled with hot-blooded alpha males in every species, from elves to demons to dragons to shifters and angels, then take a look at the new Eternal Mates series.

If you want to know more about Felicity, or want to get in touch, you can find her at the following places:



Website | Blog | Facebook | Twitter | Tsu | Pinterest | GoodReads


a Rafflecopter giveaway